Diane Von Hoffman was born to wrestle. Her two brothers were amateur wrestlers in high school and college, and used to practice on her all the time. Diane also used to watch wrestling on TV with her dad. Diane was impressed with the skill and acrobatics both pro men & women used, and the amount of pain they were able to endure. Diane dreamed of the day she would be in the ring applying the holds, inflicting the pain and winning the titles. Diane's mother hated pro-wrestling, and when she learned Diane was going pro, told her to change her name and move out of state. In 1980, Diane started her career near Georgetown, KY at a local arean. She used to go on Sunday Afternoons and work out with a couple of the girls. Her first match showed Diane she had a special talent. She was determined and knew she had what it took to turn pro. Soon Diane was writing Fabulous Moolah of her dream to a pro lady wrestler, and in 1981, at the tender age of 17, moved to Columbia, S.C. to begin her real training. The training was intense, working out up to three times a day, and then off to work the late shift at IHOP to make ends meet. Diane was undaunted, and soon, she was ready to enter the big time. Her first tour was from Columbia, S.C. to New York City and Boston Gardens where she partnered with Fabulous Moolah to take on the team of Carol Smith and Jill Fontaine. After this tour, Diane headed overseas; her first stop Japan. She spent two months touring with Leilani Kai, who taught Diane more of the ropes. Leilani is one of Diane's favorite wrestlers and they soon became very good friends. Diane then traveled to El Salvador where she spent another two months with another big name, Joyce Grable. Diane was also able to learn alot from Joyce as well. Diane partnered with Jimmy Hart to do battle with Joyce. In 1983, Diane married her first husband and tag team partner, Ringo Mercanerio. Ringo and Diane had two daughters, Melissa now 16 and Marla now 12 before divorcing. Diane and Ringo were tag partners against Joyce Grable and Vikingo on several occasions. Diane has wrestled several times in Canada for the Bear Man, Dave McKingney, where she primarily wrestled Candi Devine and a couple of other girls. She toured with the likes of Bobo Brazil, George the Animal Steele, and the original Shiek, Ed Farhat. She also wrestled for George Cannon while in Canada. She has traveled to the Philippines in 1984 and wrestled in several locations while there. On one occasion, she wrestled on the Naval base, and toured the local area with some of the servicemen who affectionately knicknamed her their 'little sister', with other pros such as Ole Anderson, her good friend Larry Zybesko, and Bruno Sammartino Jr., as well to ply her trade against Princess Jasmine. Diane has wrestled some of the biggest names in the business - stars like Candi Devine in places like Cobo Hall in Detroit MI, at the Rosemont Horizon in Chicago, and in Milwaukee and Green Bay WI. , Ms. Jacqueline, Desiree Petersen, Robbie Rage, Wendi Richter, Rockin Robin, Terri Powers, Reggie Bennett ., and Ivory. Diane names her toughest opponent as Yokata Reme of Japan. Diane has had her share of ring injuries as well including a severe neck injury and a torn ACL in her knee. Despite the injuries, Diane has held several titles including the USWA Ladies Championship, MWA Ladies Champ, UWA Champ and co-owner of a tag-team belt in Japan. Diane's career came to a screeching halt after she was severely injured in a car accident in 1994. However, with a lot of determination, hard work and support from her family, she was able to get back on her feet only to be re-injured in a forklift accident in 1999. Undaunted, Diane has fought her way back and in June 1999, reentered the ring at the LIWA convention in Las Vegas, NV. She is back down to her fighting weight of 160 lbs, and currently wrestles for the MWA organization. She has been really cleaning house from Tennessee, Kentucky, Virginia and Mississippi, leaving a swath of crushed and pain filled women in her wake. Diane has her sights set on moving up into the big time again, and regaining championship titles. With her determination and skill, Diane will be back in the championship circles in very short order.
| | |
| --- | --- |
| | Diane attempts to slam a little sense into Tina Moretti's head during their WOWW match in Ft. Lauderdale, FL 1989. |
| | |
| | Diane gets into the fray during a ladies battle royal. The participants are L to R: Peggy Lee Leather, Leilani Kai, Pink Cadillac, and Diane Von Hoffman. |
| | |
Diane getting ready to board the ship to Sapporo, Japan to do battle again.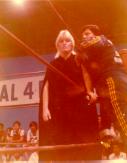 Diane with ex-husband Ringo Mercanetio
Diane stops to take a photo with some Japanese fans. You might also recognize Leilani Kai and Hori Ayuma 1981.. Hori not only wrestles, but was in the film "All the Marbles".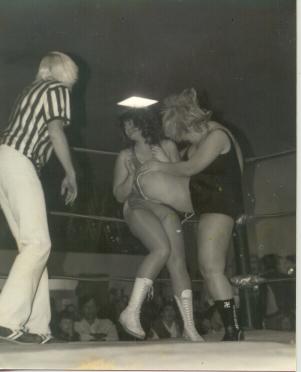 Diane punishes "Hot Stuff" Patty Powell in Georgetown, KY, 1982. Patty weighed in at 160 lbs at that time, but when Diane wrestled her again in 1999, she was up to over 300 lbs. Her increase in weight did not help her any, as Diane pounded her from ringpost to ringpost before mercifully finsihing her off.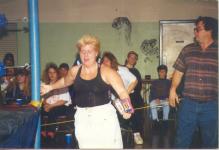 Diane aka: Moondog Fifi leaves the ring after defeating Candi Devine for the USA Ladies Belt in Evansville, IN 1993.
"Have a nice trip Tina", as Diane slings her into the ringpost.