Diane Von Hoffman/Moondog Fifi
She's 5'7" and 165 lbs. of muscle packed Dynamite!
Sweet as anyone can be outside the ring, but inside the squared circle, she is all business, and ready to kick butt! A real tigress in the ring, Diane openly challenges any woman to step through the ropes with her... Diane can be hazardous to your health.
Located in Kentucky, Diane has been wrestling for approximately 20 years. She has wrestled under the names of Diane Von Hoffman the German Nazi, and then as Moondog Fifi, wild and crazy sister of the Moondogs. Her ring style is aggressive, preferring shoot style matches. Her ring attire varies from T-Shirt and Pants to one piece suits depending on the desires of the promotion. In her 20 years of ring experience, Diane has held several titles, 1992 USWA, MWA Champion 1986 - 1988 and in 1981 was the Co-Holder of the All Japan Women's Tag Title with Leilani Kai. Diane has wrestled for organizations like WWF, LPWA, USWA, MWA, and has appeared in several other countries like Canada, Japan, Puerto Rico, and the Philippines. She has wrestled such big name stars as Carol Smith, Jill Fontaine, Leilani Kai, Joyce Grable, Candi Devine, Princess Jasmine, Ms. Jacqueline, Desiree Petersen, Robbie Rage, Wendi Richter, Rockin Robin, Terri Powers, Reggie Bennett , and Ivory.
When Diane is not tearing other women apart, she enjoys Camping, fishing, driving my boat, riding in my RV, swimming, being with my husband and 2 children, hanging with my friends.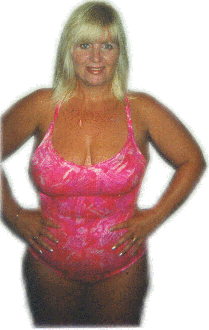 As beautiful as she is dangerous